The Site of the Home of Robert W. Chambers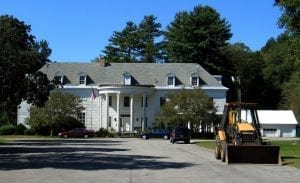 This historic marker is placed at the entrance of the old Robert W. Chambers home, which now in 1997, is the rectory house for St. Joseph's Catholic Church. Robert W. Chambers was a well known author of his day and resided here in the village of Broadalbin. He is noted for the numerous novels he has written, some of which have a local historic background. Chambers was an illustrator as well and known as a local amateur entomologist. This marker was erected in 1976 during the Bicentennial of the American Revolution and dedicated through the effort of the Fulton County Bicentennial Coordinator, lewis G. Decker and the Town Supervisor, Mr. Robert Leslie.
Location: This marker , located in the village of Broadalbin, is at the gate 9 entrance) to his old estate, just a few feet from the intersection of N. Main and North Street (route 117) on the North side.