The Old Hotel Broadalbin, A Village Landmark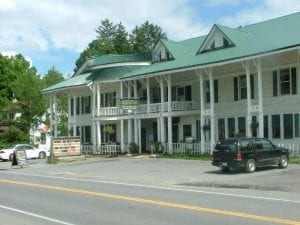 This marker was chosen to be erected by the town of Broadalbin Bicentennial Committee for the American Revolution in 1976. The Town Historian then was Lew Cornell. The old Broadalbin Hotel has been a landmark in the village of Broadalbin since it was established in 1854 and it has seen renovation through the years. It served as a hotel, one time as a hospital, a glove shop and again today (1997) as an inn and dining hall.
Location: the marker is in the village of Broadalbin on W. Main Street ( Route 155), on the south side near the intersection of Second Street, at the present Hotel Broadalbin.
GPS: 43° 3.424′ N, 74° 11.964′ W.