Sir William Johnson's Fish House Lodge
This historic roadside marker directs you to the site of the hunting and fishing retreat which Sir William had built on the old Sacandaga River as early as 1762 and was known as his "Fish House". Others began to settle here and this little settlement became known as the Fish House settlement.
Originally named Northampton, no one ever called it that; and years later the name was changed officially to Fish House. The original fish house lodge of sir William was believed to have been destroyed in one of the raids in 1781, during the American Revolutionary War.
Location: this marker is located in the hamlet of fish house, on the north side of route 110 (the Broadalbin to Bachelorville road) and across from the intersection of route 109 ( the road south to Hagadorn mills).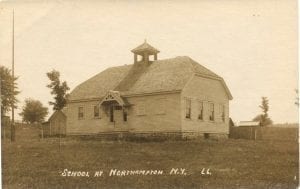 Here's a rare picture of the Fish House Community Center that started out
as a school. Note how clear the land around it was.
"Fish House did not grow like other villages, since its early inhabitants were for the most part wealthy, conservative people who did not wish their larges estates to be carved into building lots…(in time the town would become known for its) elm-lined street, the classic homes, the magnificent two-laned bridge…before 1900 there were five sawmills, a shingle shop, two chair factories, two tanneries, a glove shop, two harness shops, a skin mill, a cheese factory, a cheese box factory, four shoe cobblers, a gunsmith, several blacksmiths, two tailors and a clock maker….a school, three churches and four hotels." (From Charlotte Russell's "Northampton: Times Past, Times Present," as quoted in this article.)