Romeyn's Mill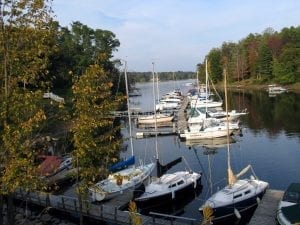 THE OLD MILL SITE KNOWN AS ROMEYN'S MILL:
This mill was originally erected by Sir William Johnson to help induce settlement into the old Mayfield Patent. It was built here on the old Mayfiled creek that emptied into the old Sacandaga Vlaie ( a water powered mill). After the American Revolution it was run by an early settler, Abraham Romeyn, and because known as Romeyn's Mill. Abraham, after the war for our independence, became a commanding officer in the Montgomery County Militia. (Note: At one time this section of Mayfield was called Shawville, named after Captain Shaw, a Civil War Officer who resided on the hill above the marker, at the south east corner of the intersection of Lakeside Drive and South School Street).
Location: The marker is located on the east side of South School Street (old Route 30) in Shawville. It is at the end of the bridge, across the Mayfield Little Lake Outlet and the Great Sacandaga Reservoir. This marker was installed in 1932 and suggested by John T. Morrison.
GPS: 43° 5.85′ N, 74° 15.407′ W.