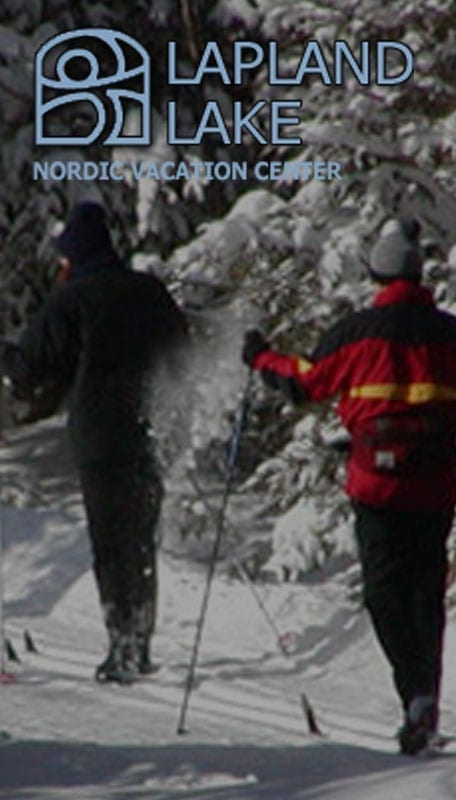 Lapland Lake
Year Round Adirondack Family Resort
Founded more than a quarter of a century ago by owner-operator and former U.S. Olympic cross country skier Olavi Hirvonen, this unique Finnish-flavored resort is situated on hundreds of carefully managed acres. Its mountain setting, combined with cozy, comfortable surroundings and the warm hospitality of the Hirvonen family, create an idyllic setting for recreation and relaxation every season of the year.
Winter Cross Country Skiing…
The ideal time to enjoy Lapland Lake for a day trip or for an overnight excursion.
Cross-country skiing in and around the resort, as well as ice-skating, snowshoeing, snow tubing and kick sledding.
Trails Open:
9am – 4:30pm Weekends & Holidays
10am – 4:30pm Monday – Friday (non-holidays)
Spring, Summer & Fall, Lodge with us and enjoy …
Our private, sandy beach and crystal clear, non-motor 70-acre spring fed lake to swim, kayak, canoe and fish.
Sightings of loons, beaver, ducks, herons, and kingfishers along the lake, one that's surrounded by forests of hardwood and pines.
Biking and hiking opportunities are plentiful and are especially spectacular in the fall as crisp autumn temperatures create outstanding foliage displays.
Year Round Adirondack Cabin Rentals and NY Cross Country Skiing
Adirondack cottages tucked within hundreds of carefully managed wooded acres.
Warm hospitality in cozy and comfortable surroundings in an idyllic setting that's open each season of the year.
Lapland Lake is conveniently located in the southern portion of the Adirondack Park approximately four hours from New York City, Montreal and Boston. We are only 9 miles from the village Northville and the Great Sacandaga Lake.
We are a non-tipping resort. Our lodging rates are subject to 8% sales tax; we have no additional service or resort fees.
We are the proud (and humble) recipients of the following awards:
Number Three in the Best Cross Country Ski Resort category in the USA Today 10 Best Readers' Choice Travel Award contest.
Number Four among the Top Ten Snowshoe-friendly Nordic Centers in North America, Snowshoe Magazine
Tourism Partner Award, Fulton County Regional Chamber of Commerce
Private Sector Tourism Partnership Award, Adirondack Regional Tourism Council
Best XC Ski Resort in the Mid-Atlantic Region (two consecutive years)
Best XC Ski Resort for Families – Best XC Ski Resort Poll
Top Ten XC Ski Resorts Catering to Families – xcskiresorts.com
Top Ten XC Ski Areas in the Eastern Region – Snow Country Magazine
Lapland Lake Nordic Vacation Center / Cross Country Skiing & Year Round Adirondack Cabin Rentals
139 Lapland Lake Road
Northville, NY 12134-3962
(USA)
(518) 863 4974