Old Mayfield Dutch Reformed Church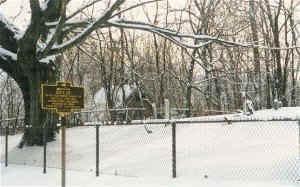 SITE OF DUTCH REFORMED CHURCH OF MAYFIELD, 1783-1826.
CHURCHYARD CONTAINING REMAINS OF MANY PIONEERS OF THIS SECTION
SITE OF THE OLD MAYFIELD DUTCH REFORMED CHURCH:
This old church was established in 1793 and stood on this site until 1826. The churchyard was used for burials of some of Mayfield's early settlers. It was later extended into today's Mayfield Cemetery, the oldest burials being on the side where the marker is. (Note: Inside this cemetery is an impressive memorial to the soldiers of the Civil War who had served in a cavalry unit under command of Captain Getman. It is a large tall column with an officer portrayed on top with his sword drawn; on the column are listed the men who served in this unit)
Location: this marker is within the Village of Mayfield on South School street, near the entrance of the Mayfield Cemetery and across from the Mayfield high School. This marker was installed in 1936 and was suggested by E.J. Ruliffson.