Northville Depot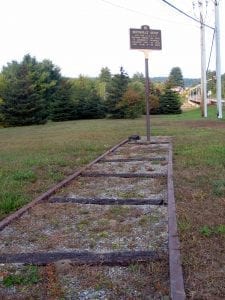 NORTHERN MOST TERMINAL OF THE F. J. & G. RAILROAD:
This marker designates the site of the Northville Depot, marking the northern most extent of the old Fonda, Johnstown, and Gloversville railroad line. In the fall of the year, when waters of the Great Sacandaga recede, you can see the old foundation of this station which was located behind this sign, over and toward the old river bank. A special committee was set up in the country during the American revolution Bicentennial, which was comprised of railroad enthusiasts from Gloversville, Johnstown and Northville, who agreed this site should be marked. They put on a special exhibit in the Northville School Cafeteria along with the dedication that day in 1976. The photograph of this dedication and committee can be found in "The History of Fulton County" by Lewis G. Decker, as well as other pictures of other town dedications. This marker in addition notes the amusement park that was near and was run by the F.J. and G. Railroad.
Location: the original location of this marker was on the southeast corner of the intersection of Route 30 North and the entrance to the Northville Bridge and Village. When the new bridge was built and the intersection widened, the sign was relocated where it is today, on the northeast side in a small park.
GPS:43° 13.439′ N, 74° 11.066′ W