June 22nd, 2017
WATER TEMPERATURE:
66 Degrees at the surface,
58 Degrees about 15 feet down.
WATER LEVEL:
The level is down about 2 feet from the last Lake Report on June 6th. This makes the Lake ideal for boating.
Stump Ally has plenty of water and if the lake continues at this rate it should be good until August 1st or so.
There is a little more sand at Sand Island to the South East Side, but still lacking on the side towards Scout Island and the Broadalbin Boat launch.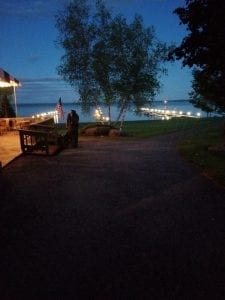 There are not a lot of sandy spots to pull up on right now. The Sand bar at Northampton Campgrounds is still under water BUT most of the campsites are not! Only a few are closed due to flooding.
All docks – marinas and personal should be at a pretty good level.
This is a good time to explore beyond some of the bays. If you go up the river past Lakeside Tavern towards route 30 by the sand pit there were quite a few boats ties together last weekend.
If your boat isn't too tall to go under the Northville Bridge, you can go up the river a few miles. If you have a Cuddy under 20-22 feet you can probably make it almost to the bridges in Hope.
These are great spots – so take advantage of this water level while you can!
All marinas are fully accessible – even the slips close to shore have about 7 feet of water.
Although this is opposite of last year, given all the rain we have had in the last month, it is amazing that the lake is not as high as it could be!
FISHING:
Walleye: are good but small 15″ – 17″
Northerns: are slowing down a bit
Browns: are pretty good for people trolling fast enough
TIP OF THE WEEK:
DO NOT LEAVE WORMS IN YOUR COOLER – if you aren't coming back until next week! You will NOT like what you find!As a matter of fact, just throw the cooler away!
(Coolers available at Gordon's Ship Store)