Home of William Brower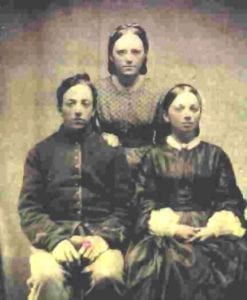 HOME OF WILLIAM BROWER, INVENTOR:
ON THIS SITE IN 1916 WM C BROWER INVENTEDAND PATENTED THE FIRST SAP GRAVITY FLOW TUBING SYSTEMFROM TREE TO SUGAR HOUSE FOR MAKING MAPLE SYRUP.
On this farm site was the home of William Brower who is credited with first introducing the use of tubing by gravity, making the maple sap flow from the Maple Trees, which in turn makes maple sugar. William as well has been credited in coming up with some other remarkable ideas in his day. The Mayfield Historical Society, along with the Town of Mayfield, saw it fitting to give him recognition by dedicating this marker in 1993.
Location: This marker is located on the road called the "Mountain Road" Route 123, north off route 30. It is located on the south side and approximately two miles up the Mountain Road. It was installed 1993.
Tintype Photo of William C Brower SR (1843-1925) with his sisters Elizabeth (1841-?) and Lucretia (1840-1873). Photo taken approx. 1862. Note private stripes on the sleeve of his uniform. William served in the 10th NY Cavalry Co I. More