First House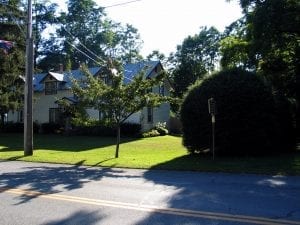 FIRST HOUSE BUILT IN OLD NORTHVILLE SETTLEMENT:
This marks the site of an early settler's home, Samuel Olmsted. located in what is today the village of Northville. Samuel's gravestone is just up the street in the old Northville Village cemetery, next to the gate entrance which denotes him as the first settler. This marker was installed in 1976 during our country's American Revolution Bicentennial.
Location: This marker is on the South Main Street in the Village of Northville, pass Van Arnam Street on the west side.