Blue Violet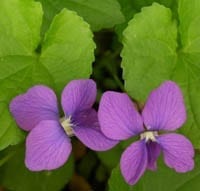 Viola sororia, known commonly as the common blue violet, is a short-stemmed herbaceous perennial plant that is native to eastern North America. It is known by a number of common names, including common meadow violet, purple violet, the lesbian flower, woolly blue violet, hooded violet, and wood violet.
The caterpillars of fritillary butterflies feed on these plants. The plants also serve as food for wild turkeys, rabbits, deer, livestock, the mourning dove, the bobwhite, and the white-footed mouse.[2]
It is the state flower of Illinois, Rhode Island, New Jersey, and Wisconsin.
Self-seeding freely, in lawns and gardens it can be considered a weed by some. Cleistogamous seed heads may also appear on short stems in late summer and early autumn.
The common blue violet is also called the "lesbian flower" because in the early 1900s, lesbian women would give violets to the women they were wooing. This symbolized their "Sapphic" desire, so called because Sappho, a Greek lyric poet, in one of her poems described herself and her lover as wearing garlands of violets. This practice became popular in the 1910 – 1930 time period.