Black Swallowtail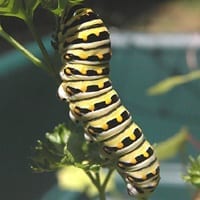 Upper surface of wings mostly black; on inner edge of hindwing is a black spot centered in larger orange spot.
Male has yellow band near edge of wings; female has row of yellow spots. Female hindwing with iridescent blue band.
In the Southwest, yellow forms predominate in the subspecies P. coloro.