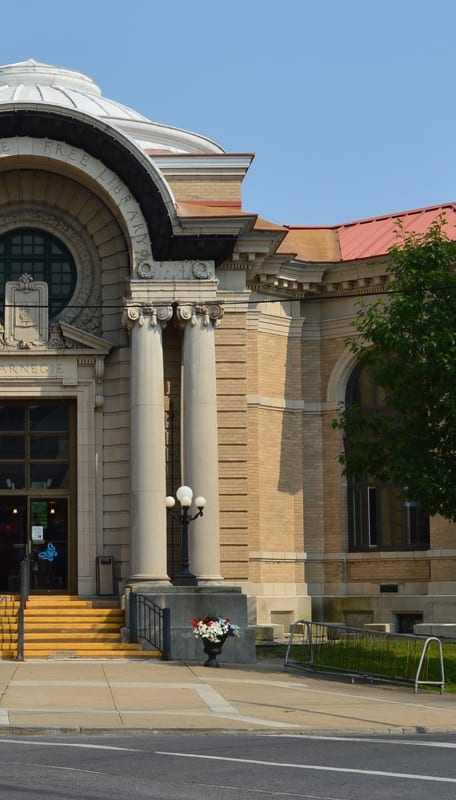 Gloversville Public Library
The first library was organized in Gloversville in 1803 and called the Farmer's Library. In 1853, the Young Ladies Library Association was established and the first books purchased in 1855. Gentlemen were allowed to become honorary members by paying 25 cents a year. This enabled them to attend the monthly socials and escort the young ladies home.
In 1873, a new organization called the Young People's Library absorbed the older group. This organization exerted a great deal of influence in the community, but because no trained librarian was on hand, old books wore out or disappeared and few new ones were purchased. The first full service library in Gloversville was the Levi Parsons Library of Gloversville and Kingsboro established in 1880. 
Gloversville Public Library Programs
The Library offers one time as well as repeating programs.  Events held on a regular basis are listed below.  For a complete listing of our programming, please check out our calendar and visit the blog for frequent updates.
BASIC LITERACY SKILLS
Literacy NY—Fulton, Montgomery & Schoharie Co. provide tutoring for adults in need of basic literacy skills. For more information contact Lisa Cardilli at 518-234-2576
PROGRAM REGISTRATION
Some library programs may require pre-registartion.  Call the Library at 518-725-2819 or register online:
Click on the calendar of events. Find the date and day of the workshop you are interested in, click on 'Register" and fill out the form.  (An email address is needed.)
SUMMER PROGRAM
Each year we have a terrific line up for July and August.  Some programs are geared for children, some for adults and some for families. Some require reservations. Check back in June each year for specifics.
Regular Youth & Teen Programming
STORY TIMES
THURSDAY STORYTIME
Every Thursday at 10:30 AM.
For Toddlers ages 2–5.
Presented by the Friends of the Gloversville Public Library.
(If GESD is closed or on a two hour delay, Story Time will be cancelled.)
SATURDAY CRAFT AND STORYTIME
The 2nd Saturday of the month, September through April at 10:30 AM.
For Toddlers ages 2–5.
Presented by the Friends of the Gloversville Public Library.
AUTHOR STORYTIME
The fourth Saturday of each month, at 10:30am, the Library hosts a story hour that features the work of a different children's author or illustrator.   The story hour includes reading a story, sharing a snack and making a craft.  This is appropriate for children accompanied by an adult.
TRAVELING STORYTIMES
Staff from the Children's Room will also visit your day care, school or group to bring a story time to you.  Contact Sally Fancher in the Children's Room at 518-725-2819 to schedule a visit.
UNPLUGGED AND OFFLINE
A program for middle school age children who want to learn to play classic board games.  The Club meets on Tuesdays from 3:30-4:30pm.  Each week the club learns new board games, their history, and practices strategies while having friendly competition.
BIBLIOMANAICS
A teen reading and writing group that gathers to discuss their favorite books and talk about writing their own stories.  All are welcome to a group where teens are in control. Fridays at 4:30 PM.
—Normal Hours—
(Labor Day – May 31st)
Mon.: 3pm–8pm
Tues. & Wed.: 10am–7pm
Thurs. & Fri.: 10am–6pm
Sat.: 10am–4pm
Sun.: closed
(518) 725-2819
58 East Fulton Street | Gloversville, New York