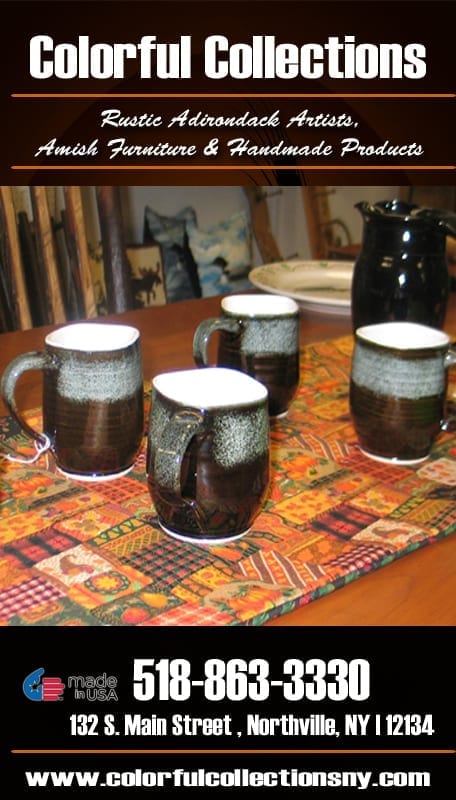 Colorful Collections is an Adirondack Specialty Store located in historic Northville, NY in the foothills of the Adirondack Mountains.
We carry everything you need to furnish your rustic, elegant Adirondack home. Specializing in custom made Rustic Upholstered Furniture, Adirondack Furniture, NY Amish made Furniture.
Our spacious showrooms are full of Adirondack artwork and decor including: original artwork and prints, photography, taxidermy, Stained Glass, Herbal Lotions, Candles, Balsam Pillows, and hand crafted one of a kind adirondack items.
Colorful Collections is pleased to offer a variety of Amish made jams and jellies, gourmet baking mixes, specialty cooking oils, sweets, animal treats and SMITH ORCHARD PIES every weekend.
Everything is American Made. We do not carry any imports. Our goal is to support local artists and craftsmen and we carry a few unique works from other states.
Weather you are in need of an Adirondack touch for that vacant corner or wish to furnish your entire home in hand-crafted Adirondack style stop in on your way through the Adirondack byways and visit us at Colorful Collections!
We are open
Please follow and like us: